London bus operator Metroline is to pilot a new lighting system designed to make the capital's roads safer. The Vehicle Avoidance Lateral Lights (VALLs) system illuminates the area either side of buses to help show road users that they are in close proximity to a bus which is especially important for vulnerable road users such as pedestrians, cyclists and people with hearing impairments.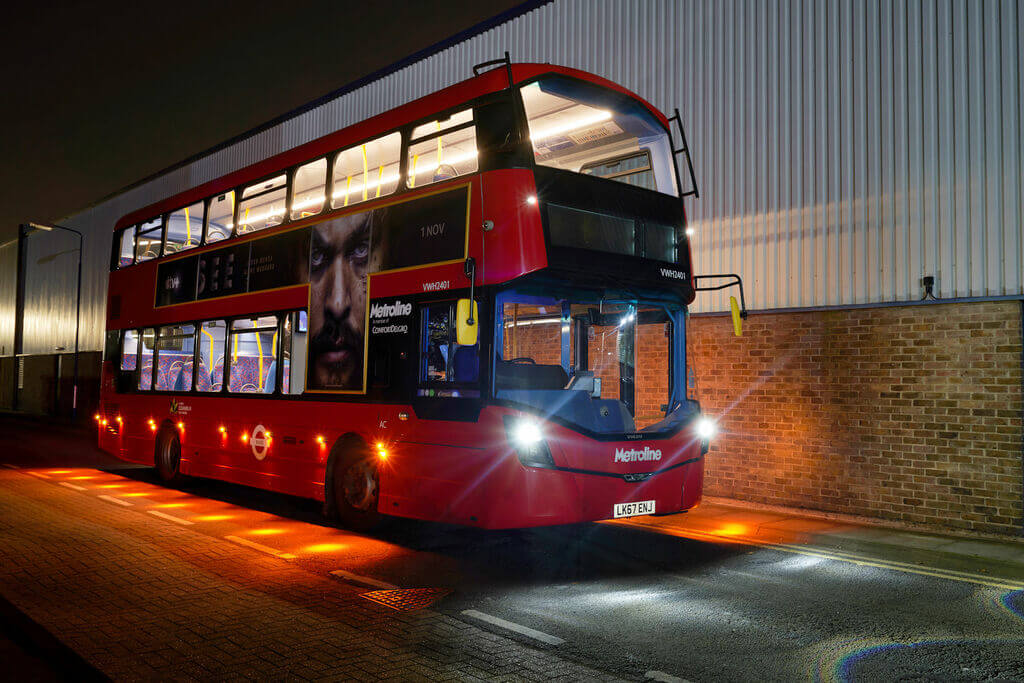 The VALLs system is the first of its kind and has been developed in partnership with Jimmy Beam Downlights Limited (JBDL). Each VALL unit features a downlight with 4 LEDs, acting as a passive system with three functions that aims to prevent a collision between a bus and other road users by creating an illuminated 'footprint' which clearly identifies the lateral clearance area around the vehicle. This will provide cyclists and people with hearing impairments a more visual warning of a buses' proximity and movements, says Metroline.
The pilot of the system will begin in February using 24 buses, including night services in operation on route 6 from Willesden garage. Sinead Maguire, Head of Transport Safety for Metroline, said: "We are very excited to be leading this innovative pilot which marks an important step for the project and reinforces our commitment to Vision Zero and making London's roads safer for all."
The VALLs System features include:
An automatic 'Slow Speed' function operating through the system's control box, which ensures that the VALLs switch on when the engine switches on, and remain on up to 15kph (9mph).
When the bus is indicating, the VALLs will flash in conjunction with the indicator, providing a visual aid for other road users in close proximity such as cyclists and pedestrians as well as the hearing impaired who may lack sufficient warning of a turning bus in urban environments when lighting conditions deteriorate.
Constant Lateral Clearance Area: The downlights remain active as long as the engine is on under 15kph, meaning the footprint is projected even in stop-start traffic. The driver can also activate the vehicle light switch, which overrides the slow speed automation and allows the footprint to be projected at all times.
Metroline and JBDL are both contributing to the funding of the project and were successful in their joint application to the Transport for London Bus Safety Innovation Challenge for support. The TfL Bus Safety Innovation Challenge was established to identify new, innovative products and solutions which will improve the safety of the London bus network and work towards Vision Zero, which aims to eliminate deaths and serious injuries on London's transport network.