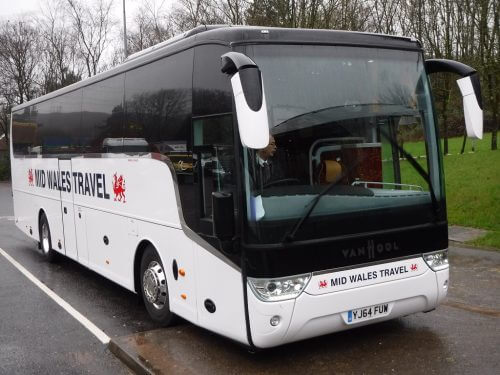 Penrhyncoch-based Mid Wales Travel has entered a partnership with megabus.com, providing a direct link between Aberystwyth and Birmingham, via Shrewsbury.
The partnership saw the formation of a new M39 service, which began running on Friday, September 29. The operation consists of one journey in each direction on Fridays, Saturdays and Sundays.
A spokesperson for megabus.com told CBW the vehicles used on the route will be from Mid Wales Travel, and that the established M7 route linking Aberystwyth to London, via Cardiff will continue to use a megabus.com-branded vehicle.
Tickets are available for travel up until January 7, allowing passengers to ride on the route over the festive period.
Speaking of the partnership, Operations Director for megabus.com, Tony Simmons, said: "We are delighted to be working with Mid Wales Travel to add this additional departure point on our services. We hope that by adding weekend departures between these two popular locations, more passengers will be able to take advantage of our great value travel to take a break or visit friends and family."
A spokesperson for Mid Wales Travel told CBW: "We are very pleased that megabus.com is willing to work with Mid Wales Travel on this venture. We are excited to be able to offer the people of Mid Wales travel all over the UK using the megabus.com network. We will be using one of our Van Hool executives."