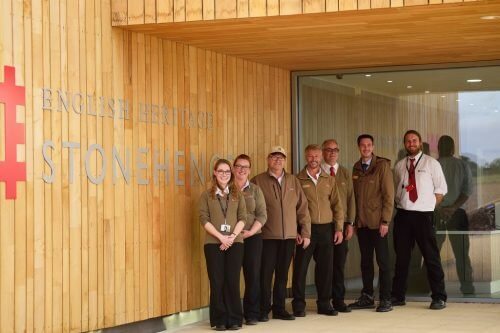 English Heritage announces improvements for groups visiting popular attraction
A new Groups Reception Building located in the recently completed 52-space coach park at Stonehenge opened last Monday (October 9), making visits for groups arriving by coach to the world-famous attraction easier.
English Heritage said the new building gives group leaders a more convenient interior reception space for ticket and audio guide collection. It also houses new toilet facilities, which almost doubles the number on site – which will be especially useful for passengers disembarking from coaches after long journeys. A new groups-only shuttle pick-up point has also been added next to the reception building, allowing groups to go directly from the coach park to the Stone Circle.
Kate Davies, Stonehenge's General Manager, told CBW: "This marks an important milestone for us and for the tour operators and GTOs (Group Travel Organisers) who bring the majority of our visitors to Stonehenge each year. We worked closely with our travel trade partners to find the best way to meet demand and ease congestion at this important heritage attraction and feedback shows they have already noticed a significant improvement since we finished the first phase earlier this year.
"The project's completion now lets us extend a truly world-class welcome to all our visitors across all areas of the site. It will allow our travel trade partners to plan their Stonehenge itineraries for the years ahead, knowing that their groups will have the opportunity to fully enjoy all aspects of our facilities and an enhanced experience of this ancient wonder of human endeavour."
Coach parking remains free on site. However, group admission operates on a timed ticket system and must be pre-booked. Email [email protected] or call the Stonehenge-only booking line on 0370 333 0604, Mondays to Fridays 0900 to 1700hrs. There is a 10% discount for groups of 11 or more visitors paying together. Coach drivers and tour leaders are entitled to complimentary entry. Visit: bit.ly/stonehengegroups.