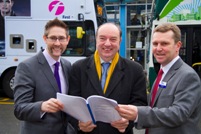 City-wide voluntary partnership could see multi-operator tickets with 23% fare reductions
Transport Minister Norman Baker MP met with representatives from the Sheffield Bus Partnership last week to endorse a ground breaking agreement which sees many passenger fares reduced by 23% on multi-operator tickets and even greater savings on some single operator tickets.
The Sheffield Bus Agreement is a voluntary partnership between South Yorkshire Passenger Transport Executive (SYPTE), Sheffield City Council and bus operators First South Yorkshire, Stagecoach Sheffield and Sheffield Community Transport. The aim is to improve the city's bus offer to encourage passenger growth.
Norman Baker MP met with representatives of the partnership to oversee the signing of the Partnership Agreement, which sets out the main conditions under which the scheme will operate. Attendees included SCC Cabinet Member with responsibility for transport Cllr Leigh Bramall, South Yorkshire Integrated Transport Authority Chair Cllr Mick Jameson and SYPTE Director General David Brown.
The city-wide agreement combines various legal powers to become the most complex and geographically far reaching partnership of its kind in the UK. Partners are accountable to the public and each other for service performance. Benefits include improved fares, multi-operator tickets, and better co-ordination and information of services, including tram. The partners believe working together has made the network simpler, more flexible and far more convenient.
Norman Baker MP said: "The Sheffield Bus Agreement is good news for the city and shows what can be achieved when local councils, bus operators and transport authorities work together for the benefit of passengers. This partnership will transform passengers' experience by making bus travel easier and cheaper."
SYPTE Director General David Brown said: "This unique partnership is a fantastic step forward in offering Sheffield's bus users a more affordable and convenient service. We have listened to our customers and subsequently built the scheme around direct feedback to ensure it best meets the needs of the travelling public. We hope it encourages passengers to make the switch from cars to buses."
Councillor Leigh Bramall, Sheffield City Council's Cabinet Member for Transport said: "It is great news to see operators working together to help reduce bus fares. We need to get as many people as possible on public transport and keeping fares low will help achieve this by making it a more attractive option."
For more details, visit www.travelsouthyorkshire.com/simplicity/