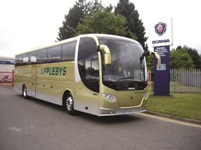 While the business has been sold to Robert McQuillan, the name and telephone number have been purchased by rival operator Radley Coach Travel
Appleby's Coach Holidays, which shut down at the end of October after its parent company Bowens went into administration, is to be relaunched under a new name – according to thisislincolnshire.co.uk.
Local businessman Robert McQuillan has bought the Lincolnshire-based coach operator's office equipment from the administrators and is set to register a new company with Companies House.
Mr McQuillan announced his intention to save the stricken firm a day after Bowens went into administration.
However, he said that because of the company's high staffing levels, unfavourable lease terms on its fleet of coaches and various other problems within the business, it was better to start a new company from scratch.
Mr McQuillan, who owns Appleby's Ices, which until 2000 was part of the same company as the coach operator, said: "Picking up the pieces of the old company was going to be too difficult. The only way to succeed is to wipe the table clean and start again."
Mr McQuillan said Appleby's had now been wound-up and the remaining skeleton staff all made redundant.
He added: "The company was overstaffed and the vehicles they had were on lease – the outstanding amount was worth more than the coaches. We are going to start a new limited company with our own coaches."
He said he would not be looking to take on the five Appleby's travel shops due to the high running costs.
Appleby's Coach Holidays was founded by William Appleby in 1913, the same year he established Appleby's Ices. The company split in 2000 when the coach firm went into receivership and was sold to the Bowen Travel Group.
Now the two companies look set to be reunited under the ownership of Mr McQuillan, who bought the ice cream company in 2009.
He concluded: "Under the right management I believe this business can thrive, and hopefully by next July we will have two companies celebrating their 100th birthdays."
As this issue went to press on Monday it was revealed Radley Coach Travel of Brigg & Barton upon Humber has purchased Appleby's trading name and telephone number from Bowens' receivers Deloitte. According to the firm, the original Appleby Livery is to be re-created and operated on a smaller scale with a the view to expand the business and acquire a further travel shop in the Grimsby or Louth area in the future.