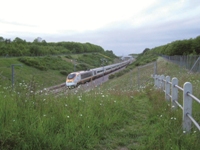 The coalition government's go-ahead for a new £33bn high-speed rail network has split businesses and economists, with one economic group calling it a "grossly expensive mistake".
Last week transport secretary Justine Greening approved the first phase, from London to Birmingham, known as High Speed 2 (HS2), which should open by 2026. Travelling at speeds of up to 250mph, journey times from Birmingham to London will be slashed to 49 minutes, from the current one hour and 24 minutes.
It is envisaged the network will be expanded to Manchester and Leeds by 2033. A Manchester to London journey will be reduced from two hours, eight minutes to one hour and eight minutes.
Greening claimed HS2 will generate benefits of up to £47bn and fare revenues of up to £34bn over 60 years. These benefits will emerge through improved links to regional cities as well as the freeing up of capacity on existing lines for new commuter and freight services.
However, the Centre for Economics and Business Research described the approval of HS2 as a "triumph of PR over economics". Douglas McWilliams, its CEO, said that based on "realistic" growth projections for the UK economy, there would be no constraints on existing capacity. He also said improving communications technology means businessmen can now work on the train and improved journey times are less of a priority.
"Our analysis is the benefit-cost ratio is only 0.5 rather than the official and implausible 2.0. The financial deficit which will require a government subsidy is likely to be £18bn rather than the official claim of £14bn," he added.
The Institute of Economic Affairs said the project will "do nothing" to bridge the North-South divide and is based on "dubious" timesaving claims, while the Institute of Directors said businesses "still need convincing of the merits of the project" and would prefer improvements to existing services.
However, the CBI said without HS2 the capacity on the West Coast main line will be "gummed up".
John Cridland, director-general, said: "We are right to plan for our infrastructure needs. The biggest prize will come from phase two – the link with the North. This will spread the benefits of future economic growth across the UK."