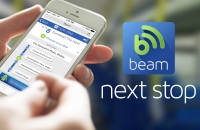 Mobile Onboard has announced a new low cost 'talking bus' technology.
Branded as Beam Next Stop, it integrates with Mobile Onboard's Beam on-bus WiFi units to provide passengers with a graphical next stop announcement system that can be accessed from their mobile device and/or large screens installed on the vehicle.
Mobile Onboard claims Beam Next Stop addresses the cost and time barriers operators face when considering the installation of a next stop announcement system on their fleet. Designed to integrate with Mobile Onboard's Beam on-bus WiFi, the system can run directly from the Beam WiFi unit to mobile devices without any further hardware installation. Operators can choose to have additional screens fitted to vehicles using full colour, WiFi enabled displays.
Running locally from Mobile Onboard's Beam Wi-Fi units, Beam Next Stop can be accessed through the Beam WiFi portal on mobile devices without passengers having to download any apps or use their own data. Both on mobile devices and large displays the screens' design focuses on accessibility for passengers with disabilities, featuring large clear text, a high contrast design and high quality audio.
Passengers who access Beam Next Stop from their mobile device benefit from being able to select a bus stop on the route. This gives them visual and audio updates plus vibrating alerts as they near their destination.
Matthew Poole, Managing Director of Mobile Onboard, said: "Currently there is only a small percentage of buses in the UK fitted with audio-visual technology, but the cost of current solutions is a real barrier for operators.
"Here at Mobile Onboard we do believe Beam Next Stop combined with our Beam on-bus WiFi provides the ideal low cost technology, enabling more operators to install a talking bus solution that also offers passenger WiFi at the same time."
Beam Next Stop will be available as an add-on to Mobile Onboard's Beam on-bus WiFi.