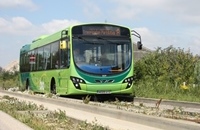 An independent report into the Cambridgeshire guided busway has concluded that the contract award was appropriate for the time.
The review was commissioned by Cambridgeshire County Council after the project was plagued by overspends, delays and faults, as well as a legal battle with building contractor BAM Nuttall.
An investigation by EC Harris Built Asset Consultancy found there was little fault with the original £84m contract agreed between the two parties, despite the problems.
Report author Bill Edwards said: "My overall conclusion is that the procurement process, the contract conditions and contract administration were appropriate for the time."
However, in one of his recommendations he added: "The contract administration of major schemes should be undertaken by appropriately skilled and experienced staff.
"This may require engaging staff not currently employed by the procuring authority."
The busway, which runs from St Ives to Cambridge, was tendered to cost £84m but has cost £148m so far, and was delivered more than two years behind schedule.
Cambridgeshire County Council's Economy and Environment Committee Chairman, Cllr Ian Bates, said: "We welcome this report on the busway contract, which has been put together by an independent expert and was asked for by the then overview and scrutiny committee.
"It will now be for the economy and environment committee to look at its findings."
In a separate development, thieves have caused damage to ticket machines on the busway after trying to steal cash. The machines at Histon and Longstanton had recently been emptied earlier, leaving very little cash inside to take.
Due to the extensive damage and the difficulty in getting replacement parts, the facility to pay by cash at the machines has been removed. Passengers will still be able to pay by credit and debit card using the machines or with cash on the buses.
The Histon ticket machine was damaged on the nighyt of Monday, September 1, and the Longstanton one around 0300hrs on Tuesday, September 2.
Joseph Whelan, Head of Passenger Transport Services at Cambridgeshire County Council, said: "We apologise for any inconvenience but this attack of vandalism has left us with no choice.
"While we would not encourage people to challenge these thieves we would like to thank the passer-by that stopped them at Longstanton and gave chase. If anyone has any information please contact the Police."