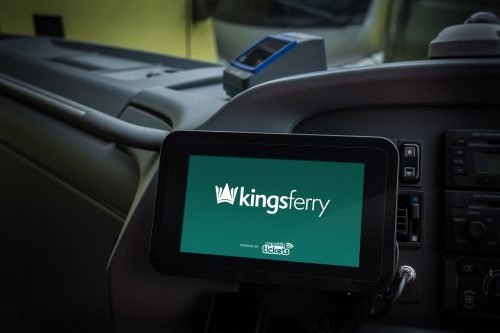 The Kings Ferry has partnered with Mobile Onboard to bring mobile ticketing to their coach commuter services. With proven expertise in mobile ticketing for transport, Mobile Onboard was chosen by The Kings Ferry to deliver a smart-ticketing system to replace their existing paper tickets.
The Kings Ferry wanted to move their commuter services towards a cashless system with the adoption of mobile ticketing and E-ticketing while using rapid barcode validation of mobile tickets on-board their vehicles.
The system specially developed by Mobile Onboard, and powered by the MyMobileTickets platform, sees the deployment of a dedicated mobile ticketing app and installation of mTicketr smart ETMs with barcode scanners on the entire commuter fleet. While an integrated back-office reporting and management system provides data on ticket sales, customer ticketing accounts as well as detailed custom reporting from on-board the commuter services.