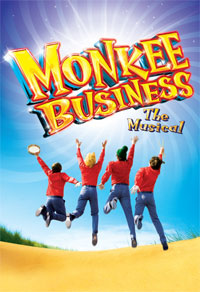 Music from famous 60s band in 'Austin Powers-style' family stage show
Monkee Business the Musical is to be launched at The Opera House in Manchester on March 29, 2012. The show will run until April 14, 2012 before moving to the Glasgow Kings Theatre from April 17 to 21, 2012 and then on to Sunderland Empire from April 24 to 28.
The launch follows the phenomenal success of the world premiere of Ghost the Musical, and is a performance aimed at the whole family, featuring hit songs from the iconic band The Monkees set around an original story.
Monkee Business is premiering at the Opera House as part of Manchester Gets It First, Ambassador Theatre Group's drive to make Manchester the UK's official city for launching new musicals, a scheme which has won the backing of the city council. Ghost the Musical was the first Manchester Gets it first show, with almost 100,000 tickets being sold during its seven-week run earlier this year.
With a cast of 20, a live band of eight, fabulous costumes and sets, a madcap 'Austin Powers-style' plot featuring all new characters and a score packed with iconic hits of the swinging sixties, Monkee Business, from the producers of Chitty Chitty Bang Bang and Spamalot, will pay homage to both the crazy chaos of the Emmy Award winning TV series and the popular music of The Monkees.
Made instant world-wide stars by the famous 1960s TV series, The Monkees, made up of Manchester's Davy Jones, Micky Dolenz, Peter Tork and Michael Nesmith, became one of most successful bands of their generation – at one time even outselling The Beatles and The Rolling Stones – releasing 121 songs on nine albums and influencing many future artists.
Many hit songs are featured, including the infamous tracks I'm A Believer, Last Train to Clarksville and Hey, Hey We're The Monkees.
Howard Panter, ATG's joint chief executive & creative director, said: "We're delighted to be premiering yet another landmark new musical, Monkee Business, as part of our Manchester Gets its First campaign. This major new stage musical will be packed with iconic hit songs from the Sixties, Austin Powersstyle zany humour, romance and adventure, which Manchester audiences will get to enjoy before anywhere else in the world."
General admissions tickets range from £18.50-£45, although groups of 10+ are advised to call 0844 871 3038 for improved rates and information.