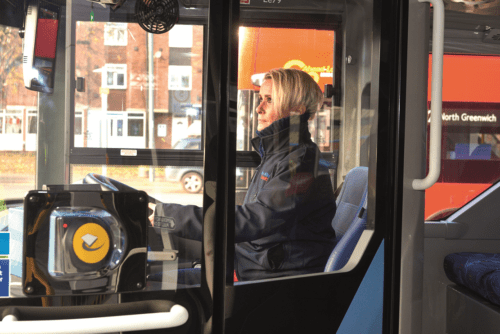 Female-focused recruitment campaigns have yielded hundreds of applicants across the UK, says Go-Ahead
The number of women drivers at Go-Ahead's UK-wide network of bus companies has risen by 20% in a year following a wide range of efforts to attract more applicants, the company reports. Go-Ahead says its bus companies have seen a significant increase in applications for driving jobs from women, following efforts to address the traditionally male dominated image of the industry. Overall, female representation among the operator's 11,000-strong workforce of drivers has risen from 10% to 12% in 2022, helping to offest the industry-wide driver shortage.
Go-Ahead employs 15,600 people in the UK bus industry, including in London where it operates around a quarter of the capital's services on behalf of Transport for London, alongside operations in Devon and Cornwall, Hampshire and Dorset, Brighton & Hove, Oxford, East Anglia, Manchester, East Yorkshire and Tyne & Wear. The company's efforts to hire more women bus drivers have included female-focused advertising, including a 'we're hiring people like you' campaign by subsidiary Go North West in Manchester and a 'heroes of the road' campaign at its East Yorkshire Buses business. In addition, the group launched a programme to build the foundations of culture change across its businesses, and a new bus driver apprenticeship scheme at Go-Ahead London.
Head of Colleague Experience at Go-Ahead Claire Mahoney said: "Driving a bus is a valuable and rewarding role, providing a vital everyday service up and down Britain. We want our workforce to reflect the communities we serve, which means a better balance of men and women behind the wheel. I'm pleased that we're getting more women on board. We're moving in the right direction but there's much further to go yet."