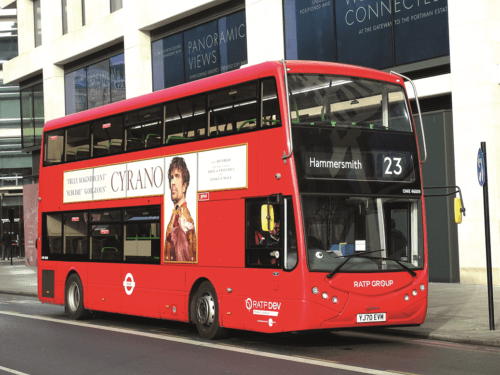 RATP Group has issued its financial results for 2022, during which time the group recorded a loss of €26 million (approximately £23.2m) across its global business. The operator has also launched what it says is an 'unprecedented' recruitment campaign in its native Paris in a bid to hire thousands of staff in preparation for this year's Rugby World Cup and the 2024 Olympic and Paralympic Games. It plans to recruit over 6,600 new employees this year, of whom 4,900 will be on permanent contracts, and including 2,700 bus drivers.
Overall the Group reported a marked recovery in passenger numbers in the Île-de-France region but average ridership still 14% below 2019 levels. The unfavourable macro-economic backdrop as a result of the conflict in Ukraine, coupled with inflation that increased energy supply prices were both factors that prompted the Group to raise salaries across its operations, though it noted that such raises are only partially covered by contracts with transport authorities, notably in the Île-de-France region and London. The net negative impact of inflation on the Group's income in 2022 amounted to €104 million.
In the United Kingdom, the Group said that 'difficulties for the London bus business, due notably to worker shortage and social tensions amidst the tight squeeze that inflation has caused on purchasing power and energy costs' had made for difficult operating conditions, which, coupled with tension in supply chains worldwide had had a severe adverse effect on income, 'despite the promising effects of business recovery and continued efforts to drive productivity back up.'
RATP Group Chairman and Chief Executive Officer Jean Castex said: "The Group's contrasting results posted for the year ended 2022 is a sign of the strong headwinds that it faces in a testing macro-economic and social context. Such a situation, which weighs heavily on all the links in the public transport chain, calls for global solutions to uphold and develop high-quality public service."
It has been reported that savings are likely to be required across its businesses, which could include the sale of its bus division in London.
In a letter shared with local media outlet MyLondon, Managing Director Bill Cahill told staff that: "As you are all aware the bus market and wider transport sector in London have faced, and continue to face many challenges – from rising energy prices to record inflation and driver shortages – all of which have resulted in service issues and penalties. This situation has intensified over the past year, impacting our business significantly. This situation is not sustainable long term."
He added: "RATP Group is now exploring all options including selling or diluting its shareholding in RATP Dev Transit London," but assured staff that no decision has yet been made.
The company recently awarded its drivers in London a 10% pay rise, increased from an initial 3.6% offer, following to sustained industrial action by members of trade union Unite.
The difficult situation for its London bus activity, which RATP puts down to a lack of staff and industrial tensions set against the backdrop of inflationary pressures on salaries and energy costs, and notes are factors across the industry, was also cited as one of the main reasons that Kelsian Group-owned Tower Transit decided to reduce its exposure in the London market by forming the RATP Dev London Transit joint venture in West London and disposing of its East London bus operations to Stagecoach in May 2022.