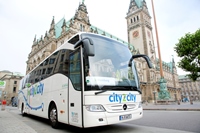 National Express Group (NEG) is to withdraw from the German long-distance scheduled coach sector when it shuts down its city2city operation on October 13. The business has become the first player to exit the market, which has become ferociously competitive – only 18 months after it began.
Based in Frankfurt am Main, city2city is part of National Express Germany GmbH, a wholly-owned subsidiary of NEG. The fleet of Mercedes-Benz Tourismos equipped with free WiFi and power sockets. The firm's five-route network serves key destinations, which includes Cologne, Dortmund, Hamburg, Hannover, Stuttgart, Munich and Bremen. s
A National Express spokesman told CBW: "city2city regrets to announce that due to continued challenging local market conditions it will stop operating coach services on Monday, October 13. Services will continue to run up until that date and any customer who has a ticket for later travel will be contacted and refunded. We would like to take this opportunity to thank all of our employees, passengers and partners over the past 18 months."
city2city was quoted in the German media as saying: "We believe that we are the first, but certainly not the last company that will cease operations."
The German long-distance scheduled coach market has been opened up to competition since January 1, 2013. Legislation dating back to the 1930s which protected state-owned rail operator Deutsche Bahn from competition was repealed.