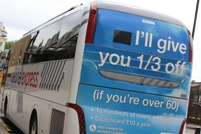 National Express posted a pretax profit of £164.1m for last year, down from £180.2m in 2011 as part of the operator's financial report for the year ended December 31, 2012.
The Group said it was unable to overcome the decline of one million in the number of elderly and disabled passengers carried by its UK coach business, as a result of the UK Government's removal of its concessionary scheme. Nat Ex claim the significant drop in coach passengers has driven the year-onyear decline in Group profit.
However, the Group described trading as "robust" for 2012 as it continued to improve services and deliver on its business strategy.
Other highlights included:
Third year of growing non-rail profit, at £185.2m (£181.8m in 2011);
Cost savings of £34m for 2012 and improved operational performance;
A Group non-rail ROCE improvement of 14% over 3 years to 10.6%;
Generated £140m of free cash flow (before rail franchise handover) and funded over £125m of organic capital investment;
Won nearly £2bn of new contracted revenue in the last 12 months;
Successfully integrated Petermann with annualised synergies of $10m; and
A strong balance sheet with long-term funding maturity.
The Group also proposed a 3% rise in its total dividend to 9.7p.
Dean Finch, National Express Group CEO said: "I'm pleased with the progress the Group as a whole has made, with four of our five divisions performing strongly. Our most significant challenge was the decline in National Express Coach's elderly and disabled passengers by one million after the UK Government's removal of its coach concession scheme. This made 2012 one of the most difficult years in National Express Coach's 40 year history and has driven the decline in National Express Group operating profit. However, our recent contract wins in Spain and North America and selection by German authorities to run two rail contracts are an indication of the international strength of our business, something we are determined to build on in 2013.
"We are optimistic about our future prospects. We expect to deliver organic growth in four of our divisions as our combination of value for money fares and operational excellence provides a compelling passenger offer in austere times. Strong cash generation and prudent management of our debt will provide flexibility in the future. We are determined to build on our recent contract successes in Spain, North America and Germany as we leverage our strong international business portfolio to deliver growth."