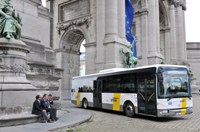 The new buses are to be deployed throughout the Flanders interurban network
BELGIUM Iveco has been awarded a record tender with Belgian Flemish public transport operator De Lijn for the delivery of 160 Euro 6 Crossway Low Entry buses. Deliveries are due to start in early 2014. De Lijn quoted Iveco's offer as the best in terms of economic and technical value.
The Crossways on order feature Cursor 9 engines with High Efficiency SCR (HI-eSCR), a fully patented advanced catalytic reduction system by FPT Industrial, which functions without the use of EGR (Exhaust Gas Recirculation) and guarantees reduced emissions and lower TCO (Total Cost of Ownership).
De Lijn operates a fleet of over 2,300 buses, transporting an estimated 500 million passengers each year across more than 225m kilometres in total. The new buses are to be deployed throughout the Flanders interurban network.
The Iveco Crossway Low Entry gained recognition in Europe following an important tender signed last summer for the supply of more than 150 EEV (Enhanced Environmentally Friendly Vehicle) buses to Germany's largest transport authority, Deutsche Bahn Fuhrpark Service GmbH. The buses are manufactured at Iveco's plant in Vysoke Myto, Czech Republic.
The De Lijn Crossway Low Entry is highly accessible thanks to two double doors (1,200 mm) at the front and in the middle, with a completely flat floor in between to ensure practical wheelchair spaces. A retractable ramp for wheelchair users is installed in the centre entrance/exit and is deployed manually. The lowered front of the vehicle benefits from an interior height of 2,565m. It can be configured in terms of seats/ standing room according to the needs of the operator.
Iveco claims the unique FPT Industrial High Efficiency SCR (HI-eSCR) technology facilitates operating with low running costs, while guaranteeing the lowest possible environmental impact. The Cursor engine is also a leader in fuel economy and stands out for its robustness and high performance.