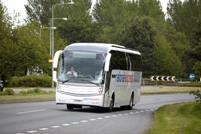 National Express relaunched its cross country coach network on Monday (February 27), creating 230 new journeys.
The 10-month planning project to modernise coach travel has given rise to new coach routes including Cardiff to Carmarthen, Blackpool to Wolverhampton and Gloucester to Nottingham. To help boost tourism across Britain, additional journeys have been made available to major cities like Birmingham, Bristol and Leeds while seaside resorts like Blackpool and Weston-super-Mare will now receive a year-round service. A new direct link is also available from Manchester to the south coast.
Trans Pennine services see significant improvements with faster journey times from the North East to Manchester, Manchester Airport and Liverpool cut by one hour 40 minutes. For the first time services between Manchester and Sunderland will be faster than local rail. Train passengers on the same route face up to three changes and journey times of between 12 and 26 minutes longer.
Andrew Cleaves, managing director of National Express Coach, said: "This is one of the biggest changes Britain's coach network has seen in 25 years. It will deliver hundreds of new journey combinations and more connections between major towns and cities. Our cross country network covers 13m miles every year and we want to ensure every route offers the best combination of destinations, price and journey time for customers."
The review follows National Express' investment in 150 new coaches during 2011, replacing around a third of its fleet with new wheelchair accessible vehicles. Around 100 additional coaches will enter the fleet during 2012 with the company on track to be fully wheelchair accessible by early 2013 – seven years ahead of the government target.
Cleaves added: "Coach continues to be an extremely popular mode of transport as passengers prioritise value for money and reliability. We're investing in new vehicles to help reinvigorate the image of coach travel and modernising our network to ensure we're providing more journeys where their most required."