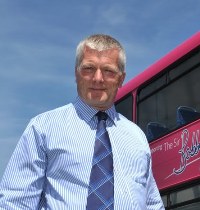 The Just Giving page set up for Peter Huntley's North Pole charity walk has been kept open and the walk is to go ahead, with the team taking a personal item of Peter's in his memory.
A statement from Kevin Carr, Colin McPherson and Martin Harris at Go North East read: "In a tribute to Peter's endless zest for life and his generous work for charity, we'd like to encourage everybody to continue to donate to the charity project which he was training for at the time of his tragic accident. Peter was planning to walk to the North Pole in April to raise more than £10,000 for Transaid.
"Peter's children have kept the Just Giving website page open and it would be a fitting tribute to see his target of £10,000 reached."
Peter Huntley's funeral will take place at 1600hrs on Friday, March 2, 2012, at Preston Crematorium, Longridge Road, Preston, PR2 5BP.
If you would like to attend the funeral, please let Heather Smith at TAS know by emailing heather. [email protected] or calling 01772 204988. TAS will be organising bus transport from and to Preston station.
Please note parking at the Crematorium is limited. Further details about the arrangements will be placed on the TAS web site at www.tas.uk.net
The Just Giving page can be found at www.justgiving.com/Peter-Huntley