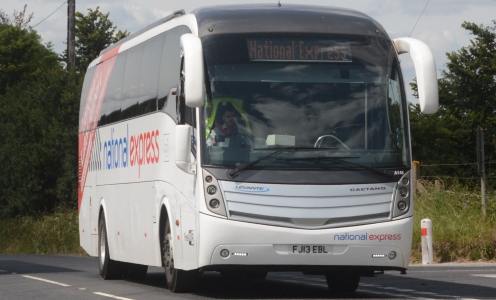 National Express ferried record-breaking numbers of festival-goers to Glastonbury Festival and back this year.
Almost a quarter of all Glastonbury ticket-holders – nearly 28,000 people – arrived at the site with the operator. Thousands of seats were sold for National Express' white coaches, while thousands more travellers arrived at Worthy Farm on vehicles operated by the Kings Ferry, part of National Express Group.
The news comes after National Express unveiled an enhanced UK-wide network of services to Glastonbury. The coach operator added new services and an improved timetable which was specially geared round customer feedback.
The changes allowed people to arrive at the site earlier than ever, which helped people to pitch for the best tent spots quicker and depart the site earlier after the festival ended.
National Express UK Coach Managing Director, Tom Stables said: "We're thrilled to have carried more people than ever to the Festival this year. National Express provides a vital transport artery into the heart of Glastonbury. We've worked to ensure there is a seamless delivery to music fans and we¹re looking at customer feedback with a view to delivering a service that's even bigger and better next year."
Glastonbury Festival's Green Issues Co-ordinator Lucy Smith said: "As an environmentally responsible festival, Glastonbury welcomes people travelling to the site by public transport and those travelling with National Express benefit from a designated route in and out of the site avoiding lengthy traffic jams caused by cars. One coach can take the equivalent of 50 cars off the road."