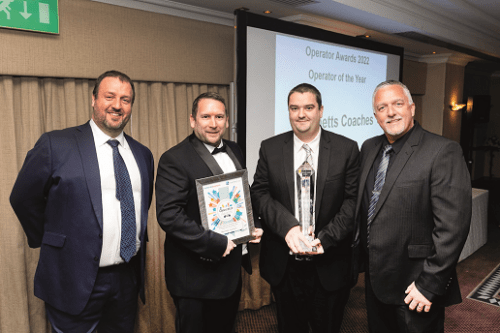 National Express recently celebrated its partner operators in its annual National Express Operator Partnership (NEOP) Awards, recognising the role its partners play in ensuring the company can provide reliable, safe and comfortable coach travel for millions of passengers every year. The awards, now in their 15th year, took place at the Best Western Plus Windmill Village Hotel in Coventry, welcoming attendees from across the UK and Ireland.
The NEOP Awards reflect National Express' commitment to providing the highest standards across its network. Each operator is measured based on an evaluation table and the winners determined by their performance and scores in areas such as driver excellence, coach cleanliness and quality and customer service.
Among the winners were Bennett's Coaches, which was crowned Network Operator of the Year for the second consecutive year. Other winners included Travelstar European for Best Fleet, Llew Jones International for Most Improved Operator, and Derek Campbell of Bruce's Coaches taking the Driver of the Year title.
Managing Director of National Express UK Coach Chris Hardy praised the exceptional performance and commitment to excellence shown by the winners. He said: "Our partner operators play an essential role in our network and we are delighted to recognise their hard work, dedication and outstanding service through our annual awards. We're proud to have them on board and extend our heartfelt thanks and congratulations to all the winners!"
Winners in each category were:
Best Fleet (sponsored by Dawsongroup plc): Travelstar European for achieving 100% on 49 vehicle audits in 2022
Driving Out Harm (sponsored by Seeing Machines): Edwards Coaches (Wales), achieving an audited score of 99.5% in safety excellence
Go Green Award (sponsored by Scania GB): Bernard Kavanagh & Sons, reporting zero spillages in 2022
Most Improved Operator (sponsored by Lytx DriveCam): Llew Jones International for making significant changes in fleet, people and service and achieving a 12%+ rolling year improvement in 2022
Customer Experience Excellence (sponsored by Scania): Yeomans Canyon Travel for ranking first place in several categories
Driver of the Year (sponsored by Add Secure): Derek Campbell from Bruce Coaches for consistent excellence behind the wheel
Engineer of the Year (sponsored by Caetano): John Bruce Jnr. from Bruce Coaches for exceeding engineering expectations
Operational Manager of the Year (sponsored by uTrack): Tim Robson from Galloway European for ensuring operational excellence
Network Operator of the Year – one to five vehicles (sponsored by Journeo): E Stott & Sons
Network Operator of the Year – six to 10 vehicles (sponsored by Scania GB): Bennetts Coaches
Network Operator of the Year – 11 to 20 vehicles (sponsored by Scania GB): Travelstar European
Network Operator of the Year: over 20 vehicles (sponsored by Volvo): Edwards Coaches Wales
Gold Standard Achievement Awards (sponsored by Caetano): Edwards Coaches Wales, Edwards Coaches Bristol, Travelstar European, E Stott & Sons, Bennetts Coaches
Overall Network Operator of the Year (sponsored by Caetano): Bennetts Coaches
The operator's Golden Spanner Awards, which recognise operators who have consistently met and exceeded expectations, introducing best practice across engineering departments, were awarded to:
National Express Luton
Oxford Bus Company
Parks (Plymouth)
Selwyns Travel (Runcorn)
Selwyns Travel (Manchester)
E Stott & Sons
The Kings Ferry Dover
Travelstar European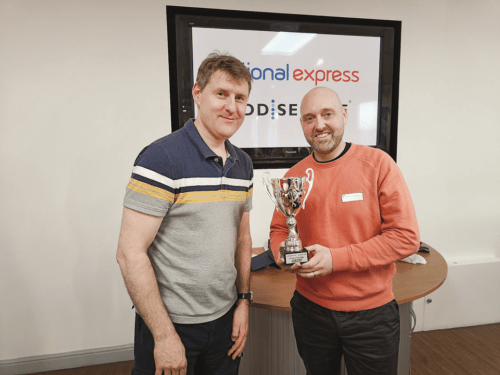 Further awards for sustained high achievement were presented to:
Travelstar European and E Stott & Sons (13 consecutive years)
Bennett's Coaches and Edwards Coaches (Wales) (12 consecutive years)
Bruce Coaches, Parks (Plymouth) and NXTS Aston (Nine consecutive years)
Edwards Coaches (Bristol) and Yeomans Canyon Travel (Five consecutive years)
Chalfont Northampton, Galloway European and Oxford Bus Company (Four consecutive years)
Selwyns Manchester (Three consecutive years)