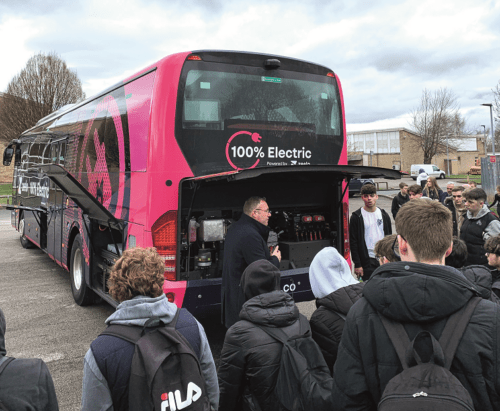 Smart bus transport provider Zeelo has expanded its net-zero commuter bus taster programme to independent schools. In a roadshow organised in collaboration with its client RNN Group, students from three colleges have had the opportunity to ride a Zeelo electric bus between several campuses to attend workshops and seminars to learn the value of emissions-free mass transport. Wilfreda Beehive is one of four operators that has joined forces with Zeelo to run active services using Zeelo's electric bus.
Students from the motor vehicle departments at Rotherham College, North Notts College and Dearne Valley College trialled the Zeelo bus and received an introduction to smart and sustainable transport from Zeelo and Wilfreda Beehive's operational teams before being split into subject groups with their tutors to discuss electric vehicle technology and its relevance to their course. The educational roadshow also included interviews with bus drivers to get under the skin of the real-life considerations for fleet electrification.
RNN Group is one of several Zeelo clients, including Jaguar Land Rover and ASOS, that have started testing Zeelo's electric bus service, which is also optimised with a proprietary GPS routing algorithm which the firm says provides faster, safer, smarter and greener commutes.
Director at Wilfreda Beehive Phil Haxby commented: "We are absolutely delighted to be involved in this battery electric coach trial in partnership with Zeelo. Over the last two years we have invested over £3 million in cleaner Euro V1 diesel buses and coaches and the next logical step is the move to zero emissions. We very much look forward to gaining valuable insight and experience from this project to assist us in our future investment strategy."