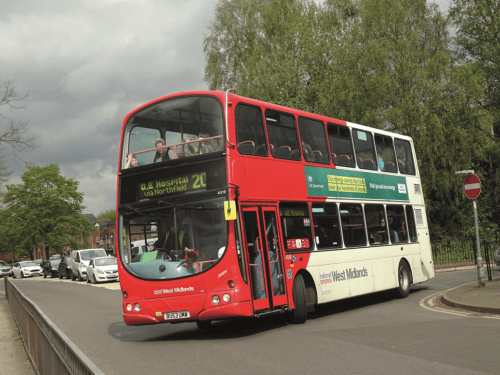 National Express West Midlands has begun operating an improved seven-days-a-week bus service between Bromsgrove and Birmingham's Queen Elizabeth Hospital. The new, extended service 20 replaces service 144A on an hourly frequency between Monday and Saturday linking Bromsgrove's bus station and the Queen Elizabeth Hospital in Birmingham. The enhanced service starts earlier and finishes later, with services now also running every two hours on a Sunday.
David Bradford, Managing Director of National Express West Midlands, said: "We're really pleased to be able to continue working with Worcestershire County Council to ensure that local communities do not lose their vital bus connections.
"Our new and existing customers can hop on board our new and improved service 20 between Bromsgrove, Rubery, Longbridge, Northfield and the Queen Elizabeth Hospital, at the same great-value price."
Councillor Mike Rouse, Cabinet Member with Responsibility for Highways & Transport at Worcestershire County Council, said: "My mission to secure and enhance bus services for Worcestershire is making good progress with the extension of this service, running on a Sunday, and improved regularity. These are the things people who use this service asked us for, and we listened to them before retendering the service. Whilst I know some people will be anxious about the change to the number on the front of the bus, it is important we focus on the service and the benefits to passengers both in Worcestershire and in Birmingham first and foremost."
In May 2022, First Worcester curtailed its long-standing service 144 linking Worcester to Birmingham to terminate in Catshill, explaining that following the pandemic it had carried very few people between Catshill and Birmingham hence the decision to remove the link to Birmingham. National Express West Midlands worked with Worcestershire County Council to introduce the 144A, maintaining a bus link to Longbridge where they could change to onward services to and from Birmingham.