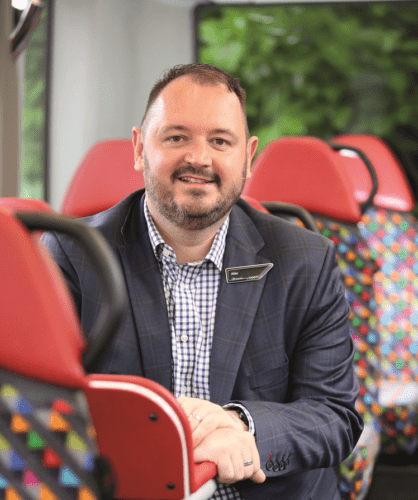 In his new role as Managing Director, Alex Hornby will report to the McGill's Group board including CEO Ralph Roberts and owners Sandy and James Easdale
Scottish independent operator McGill's Group has appointed experienced industry executive Alex Hornby as its new Group Managing Director. Alex, 41, is moving to McGill's Group's Scottish headquarters in Greenock after eight years leading North of England bus operator Transdev Blazefield. He will report to the McGill's Group board including its Chief Executive Ralph Roberts and its owners, brothers Sandy and James Easdale.
The move follows a period of substansial growth for the company in the last two years across Scotland's central belt with the purchase of Xplore Dundee from National Express in 2021 followed by the acquisition of First Scotland East last year, including the Bright Bus open-top tour operation in Edinburgh, where it plans to introduce an electric open-top fleet. The company is also growing its partnership with FlixBus as it continues to expand its reach across Scotland and the UK.
McGill's CEO Ralph Roberts said: "Alex's drive and passion will significantly strengthen the McGill's Group leadership team and ensure that we continue to develop the current business as I focus on our exciting growth plans. We continue to hire quality people and we look forward to working with Alex."
Alex said of his appointment: "I am hugely excited at the opportunity to manage a class-leading, successful and ambitious organisation, now the biggest independently owned bus company in the UK, Scotland's Public Transport Operator of the Year and one of the largest operators of zero-emission electric fleets in the country. The future for our industry is bright if – across both the operator sector and in government – we all grasp the right opportunities and align ourselves to zero carbon, economic growth and congestion-busting agendas that the bus can help to realise."
McGill's Chairman James Easdale added: "We have emerged as a front runner in zero-emission transport, with investment totalling £55 million since the end of 2021, placing us in the UK's top three companies for fleet decarbonisation. Earlier this year, we introduced a further £20 million investment in 41 new electric buses."
Co-founder Sandy Easdale added: "We are doing our part to get people out of their cars and back on the buses but we need government to play their part and get a realistic perspective regarding subsidies. Their obsession with trains is madness. We are pouring serious investment into substantial infrastructure upgrades at four of our depots to support charging and maintenance of our electric fleet, while a training programme is under way to support vehicle technicians as they maintain the next generation buses."