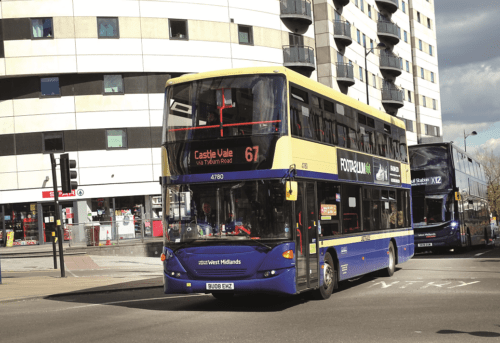 National Express West Midlands has introduced what it says is the UK's largest on-bus ticket scanning system to read and validate mobile tickets (m-tickets), in partnership with Masabi and INIT. The operator says the new technology provides it and its customers with a quicker, safer and simpler way to travel, reducing fraud, speeding up boarding times and reducing wait times by providing a more efficient contactless experience.
The system has been live for a number of months across National Express West Midlands' fleet of 1,600 buses throughout Birmingham and the Black Country, Solihull and Coventry, and the operator reports that 21 million m-ticket QR code scans have already taken place since the new technology was rolled out towards the end of 2022.
In line with industry-wide trends, the company says it has seen an increasing use among its customers of digital ticketing compared to traditional cash payments. It reports that over 132 million bus trips have been made on its services with m-tickets using Masabi's Justride platform.
The operator's Sales and Partnerships Director Daljit Kalirai said: "Around 25% of our customer journeys are made using m-tickets and we've seen over 21 million scans using the new QR code scanning system. It couldn't be easier – customers simply activate their m-ticket in our app, get on board and scan the QR code using our on-board card reader.
"The new m-ticket QR scanning technology has been a really exciting project for us. Working collaboratively with our partners Masabi and INIT, we've been able to make several improvements to our scanners and mobile app, so our customers get the best experience possible. It will also help us crack down on fraud so we can continue maintaining our low fares while making it even quicker and easier for our new and existing customers to travel by bus."
CEO of Masabi Brian Zanghi said:"The success of this initiative with National Express West Midlands is the result of the close partnership we have developed over recent years, helping to roll-out upgrades and improvements that continue to make everyday life easier for bus customers.
"The use of our barcode key schema to accelerate mobile ticketing adoption illustrates our ethos of the power of partnerships and open ecosystems to benefit local communities and the wider transport industry."
Jens Mullak, Managing Director of INIT, added: "INIT has enjoyed a strong partnership with National Express West Midlands for many years and we recognise that passengers now demand greater choice when it comes to paying for their travel. Within six weeks our engineers retrofitted the ticket validators across National Express West Midlands' entire fleet with new barcode scanners. This new payment method speeds up boarding times because passengers activate their ticket before they board and then simply scan the stored QR code on our validators as they enter the bus.
"National Express also benefits because it has visibility of their passengers' movements when they scan their barcodes."
Testing of the new m-ticket QR code scanning technology began last year, and the operator worked with Masabi and INIT to implement and refine the new system before rolling it out more widely from November. Masabi adapted the design of the m-ticket QR code in the app to make it easier for customers to scan, and INIT retrofitted optical readers for barcode validators on existing card readers, without disrupting existing functions. The partners instigated a daily change programme which involved card readers being removed from buses and transferred to INIT for retrofitting with the new technology before being returned and refitted to buses ready to go back into service.
Masabi and National Express West Midlands began working together in 2016 with the launch of the National Express Bus m-ticket app and in 2018 introduced a smart ticketing scheme allowing students to order discounted or fully-funded student travel passes through the app. In 2021, National Express West Midlands also launched cash digitisation, allowing passengers to buy their tickets using cash at more than 1,300 retail locations across the West Midlands.