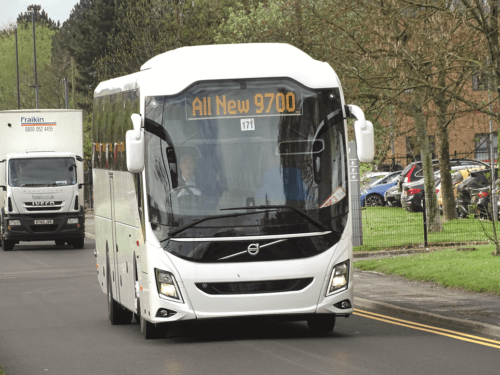 Volvo Buses has signed a Letter of Intent with bodybuilder Sunsundegui to produce bodies under licence for the 9700 and 9900. Production is expected to start in 2024, with the first models on the market in 2025
The Letter of Intent (LOI) is the next step in Volvo Buses' recently-announced new business model for its European markets, which will see it focus on chassis production and work with external bodybuilders to offer customers complete coaches and buses. The intended partnership with Sunsundegui follows its agreement with MCV, which will see the Egypitian builder produce bodies for Volvo's electric city and intercity buses in Europe (see page 14). Bodies for the Volvo 9700DD double-decker will continue to be produced by Carrus Delta, while chassis production will remain at Volvo Buses' plants in Borås and Uddevalla, Sweden.
"Sunsundegui is already a valued partner and in our experience a very professional company with excellent capabilities," said Dan Pettersson, Senior Vice President of Volvo Buses. "It has the capacity to meet requirements and demands in many European markets, and its bodies are highly appreciated by our customers. Together, we are confident that we will develop a range of premium coaches that will lead the industry."
Based in Spain, Sunsundegui has delivered bodies, primarily built on Volvo chassis, for customers across Europe for many years and offers several models covering the broad spectrum of customer needs across European markets. The agreement includes bodies for Volvo Buses' new coach platform, and for the 9700 and 9900, which was launched in 2022.
"We are looking forward to the partnership with Volvo Buses. Sharing their commitment to providing sustainable, safe and efficient coach travel creates a solid ground for a successful partnership," said Sunsundegui CEO José Ignacio Murillo.
"Along with our partnership with MCV, working together with Sunsundegui will support us to develop a complete offer for premium coaches, city and intercity buses for our customers in Europe," said Dan. "Our business model will see us work closer together with some of the world's leading bodybuilders and enable us to combine our expertise and capabilities in our respective fields. This in turn will enhance our ability to develop and adapt solutions to meet each customer's unique needs."
Under the new business model in Europe, Volvo Buses will remain as the customer interface and continue to provide uptime services and spare parts, both for upcoming new offers and for customers that already have Volvo buses in their fleet. The manufacturing of complete Volvo coaches in Mexico and North America is not affected by the change in Europe.
Sunsundegui says the plan is to start production in May 2024 and reach a manufacturing rate of two coaches per day, for which a gradual build-up of between nine and 12 months will be necessary. The agreement with Volvo will allow the Navarrese firm to expand its current production capacity, and go from producing three or four coaches per day to a capacity of 850 units per year. In addition, the agreement will involve the hiring over the next four years of both direct and indirect personnel, with numbers expected to be between 400 and 500 people.
Sunsundegui will maintain its current product portfolio and will continue to body on all chassis available in the market.