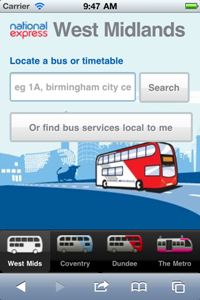 Digital marketing agency, One Black Bear, has launched a new mobilefriendly website for National Express, which it claims has displayed incredible success and proves smartphone adaptations are essential for good business.
The mobile version was launched last December alongside the brand-new website, also designed by One Black Bear, as a stand-alone application using only the key elements and features essential for planning a journey while out and about.
The wealth of information available through the service, coupled with the simplicity of the design and the fact the website was specifically made for mobile browsing has seen the number of total visitors increase by 7% from November to December and a further 4.5% in January, with 27% of those accessing National Express through their mobiles.
One Black Bear said the success of the mobile site is down to the usability of the features available. The site has 'location-awareness' to automatically include information relevant to the local area, but also allows customers to search by post code or bus service number to find times and bus stops relevant to them.
There is also an option to search Google Maps for the nearest stop and information is provided on times, fares and the frequency of services at the tap of a screen, as well as a real-time display of any delays commuters might experience on local routes.
View the new National Express website at www.nationalexpress.com on a PC, or on a mobile at nxbus.mobi