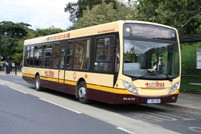 Veolia Transdev has acquired the the local bus and sightseeing operations of York Pullman.
York Pullman has developed a strong brand presence, particularly serving the growing University. These services will fit well into current Transdev operation, which includes the respected Yorkshire Coastliner service, a series of local bus routes and the local Citysightseeing franchise.
CEO Martin Gilbert commented: "This acquisition enables us to use the resources of Veolia Transdev to further develop our business in York at a time when the local council view bus services as a key part of their plan to 'Get York Moving'. This is particularly relevant on the University route where we see our style of a high quality branded service to students and staff as an important part o f encouraging more people to travel by bus."
York Pullman MD Tom James, said: "We have worked very hard in developing our services and I am confident this success can be further enhanced by one of the leading bus industry operators. I can now concentrate all my energies on the further development our 50-vehicle contract and private hire business."
Included in the acquisition are 17 buses and 31 staff. No job losses are expected as a result of the deal.