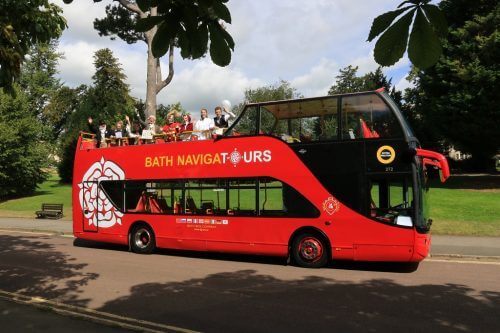 Bath is third UK city to see the sightseeing bus brand, which will be operated by Bath Bus Company
Bath Bus Company, which operates of Bath's red open top bus tours, has launched an Ayats O55/24F-bodied Volvo in the new Bath Navigatours livery.
The Navigatours brand has previously been seen in Cardiff and Windsor.
The livery was unveiled at Terrace Walk, in the centre of Bath, where Bath Bus Company representatives were present for the launch. Members of staff from The Roman Baths, No.1 The Royal Crescent, Sally Lunns, The Thermae Bath Spa and the Jane Austen Centre were all in attendance in period dress aboard as they toured around Bath.
The bus remains in its distinctive red colour, while the livery features the Navigatours logo. An English rose is embellished on both sides of the vehicle.
This replaces some City Sightseeing buses in Bath, though the number of vehicles in Bath Bus Company's fleet remains the same.
Victoria Annett, Marketing Manager for Bath's Open Top Tours, said: "We are really pleased to have launched Navigatours in Bath; it's wonderful to see the new livery in this beautiful city."