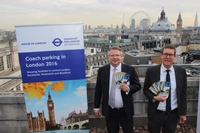 Other news unveiled at the launch includes plans for coaches to park at bus depots and bays 21 short-stay bays' waiting times increased to 60 minutes
The 2016 edition of the London Coach Parking Map was launched on Thursday (April 14). Produced by Transport for London (TfL) in collaboration with the Confederation of Passenger Transport UK (CPT), the valuable publication provides coach drivers with information on parking in the capital, special arrangements outside popular tourist attractions and general advice on driving in London.
The publication comes as TfL trials the use of mixed-use parking bays which are primarily loading bays and can also be used to set down and pick up coach passengers. Five new dedicated coach parking bays will be opened this year, two on Park Lane and three on the Albert Embankment. TfL said that 21 of the capital's 27 short-stay bays will also have their coach parking time increased from 20 minutes to 60 minutes. This will enable drivers to use them when taking their 45-minute rest period as required by driver's hours law.
Speaking at the map launch, which took place on the 10th floor of the historic London Underground headquarters at 55 Broadway, which lies above St James' Park Tube Station, Ben Plowden, TfL's Director of Surface Strategy and Planning, said: "This new map is being delivered in time to help during the busiest time of the year for the coach and tourism industry.
"If you're involved in the London road network, these are very challenging but interesting times indeed. We have a new commissioner – Mike Brown – who took up his post before Christmas. In a few weeks' time, we'll have only the third mayor of London as a result of the election in May. Although the post has been in existence since the year 2000, we've only had two. We'll be welcoming in the new mayor and helping them do what they need to do to continue to support London's economic growth.
"As you know, we've got a rising population. People are coming here in their thousands every year – probably the fastest rate of growth ever. You just have to look out the windows of this room to see a skyline littered with construction site cranes, which are currently generating a huge amount of freight traffic as the buildings get put up. This of course, generates a further amount of traffic in due course as the homes, shops and offices they will contain need to be serviced.
"We've also got the utilities upgrading their infrastructure. The Thames Tideway project will begin sooner than anticipated – which involves replacing the sewer system that supports the storm conditions. The very substantial infrastructure project literally runs through the heart of the city of London.
"We have rising public expectations around the environment too, particularly around emissions and safety. You will be aware that the current mayor is committed to improving conditions for cyclists. My own personal view is that those trends will broadly continue over the next five to 10 years as London tries to position itself as a great world city."
Ben conceded: "We're very conscious that the last few months in particular, have been very challenging in terms of the combined effect of our own highway works, the work the boroughs are doing – like the Aldgate scheme – along with other development projects, such as utilities on a network that's already very busy."
Ben added: "Two or three other things which are going on are that we're working to increase the number of bays on the TLRN (TfL's Road Network or London's 'red routes'). We've made a commitment to do that as quickly as we can. We want to increase the number of mixed-use bays too.
"Many of you might say it's too slow and it's not enough. We're very conscious we need to keep this moving forward as quickly as we can.
"Against the background of an increasingly crowded network, we do remain absolutely committed to enable all of you to go on doing what you do supporting the economy of London, bringing people to the city and moving them around the city safely and efficiently. It is going to be challenging – there's no doubt about it – but we're determined to work with you to achieve that aim."
CPT's Chief Executive, Simon Posner, said: "This map really is the 'Parking Bible' for all coach drivers in London and I would like to thank and congratulate all those involved in its production.
"There is no doubt that London needs coaches – but coaches need space to be able to operate and serve their passengers and serve this city. We understand we're not alone in asking for this road space, but we're vital to London. That's why we appreciate all the work TfL does to work with us to try and make coach operation in London work. That's not for a second saying it necessarily does well all the time. Quite often you'll hear a coach operator's lot is not a happy one. Well we're trying our best to make it happier. I really do applaud all the work TfL coach team have done – not just the coach parking map, but all the other positive things and we and you are looking to do, having worked with the industry. A prime example of the latter is the lengthening of waiting times. We at CPT will try to do more.
"We're working with a number of London bus operators now. Very soon we hope to launch something where you'll be able to park quite close to central London in some bus garages.
"More needs to be done and will be done. I expect I will be photographed at a number of exciting places over the coming months. However, the central message is not to complain about what isn't being done today – it's to celebrate about what is being done, understand that it's only been done by working together – the industry in all its forms and TfL – and hope that we continue to work together to deliver in future."
The new map is available to view here www.tfl.gov.uk/coachdrivers . Hard copies are available by emailing [email protected].