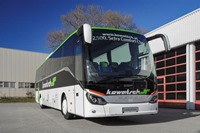 AUSTRIA Daimler has delivered the 2,500th Setra ComfortClass 500 to Villach-based operator, Kowatsch Nfg. GmbH, which is part of the Dr. Richard group of companies. The landmark coach, an S516MD, is also the first "middle-decker" to be purchased by the large Vienna-based company.
Equipped with, among other things, bi-xenon headlamps, on-board toilet, panoramic camera and video system, the 53?seater also features the latest in safety assistance systems. These include Lane Assistant (SPA) as well as adaptive cruise control (ART) with Active Brake Assist (ABA3), which is capable of automatically initiating emergency braking also in the case of stationary obstacles.
For Ulrich Bastert, Head of Marketing, Sales and After Sales Daimler Buses, the official handover of the vehicle at the Service Centre of EvoBus Austria in Wiener Neudorf was clear proof of the Europe-wide success of the model series that was launched in 2012. "I am pleased that this landmark vehicle of the Setra ComfortClass 500 is going to a partner with whom we have for many years been able to jointly develop solutions for new trends in the industry," he said.
Also for Dr Ludwig Richard, the long-standing partnership with the Ulm-based brand is of significance. "For us, it is a great honour and privilege to take delivery of this vehicle, with which we wish to send out a very special signal," he said. "The S516MD is the prototype for a restyled corporate design."
Kowatsch offers, among other things, an extensive travel programme to numerous destinations in Austria and the surrounding countries as well as transfers, excursions and company outings. It also operates several bus services in and around Villach.