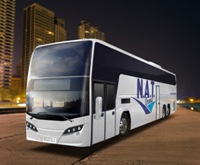 South Wales-based New Adventure will become the first independent coach operator to acquire Plaxton's flagship Elite i coaches. The company is to take delivery of two in the spring.
Kevyn Jones, MD of New Adventure, is excited at the prospect of taking delivery of the biggest luxury coach ever built in Britain. He said: "The Elite i is a stunning vehicle and we're really looking forward to them joining the fleet. We already operate 15m single deck vehicles with 65 seats, so we know there's no difficulty in running vehicles of this length and the additional capacity will give us a significant advantage."
The Elite i is fully wheelchair accessible without the need for a lift and offers exceptional capacity, 23% more than a conventional single deck, thanks to some clever packaging which allows seating the full length of the main deck and up to four seats adjacent to the driver. Believed to be the largest luxury coach ever built in Britain, the first examples of Elite i are now entering service with Stagecoach.
Unveiled to the public at November's Euro Bus Expo, the Elite i is built on Volvo's new B11 chassis which is integrated into the all stainless steel structure of the Elite i. This arrangement gives unprecedented locker capacity.
New Adventure's decision brings the total number of Elite i orders to 25 for Plaxton, all of which are due to enter service in 2013. These will be the first new Plaxtons added to the fleet where they will join Enviro buses from the same ADL stable.