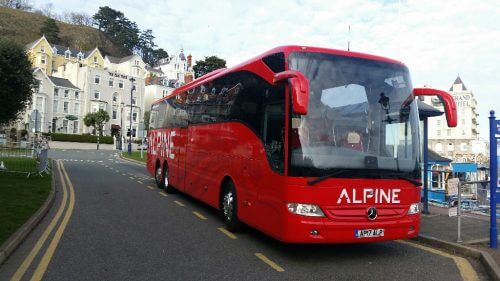 Respected North Wales operator unveils new identity for its tour coaches – and new Plaxton coach on order
Llandudno-based Alpine Travel has launched a new red-based livery and brand for its touring coaches, which will separate the frontline fleet from its contract vehicles.
Asked about the background to the new livery, Chris Owens, Managing Director told CBW: "We've had our current white-based livery since the late 1990s. Having depots in Rhyl and Llanrwst, we didn't think we should be 'Alpine of Llandudno.' We went for a corporate livery for the coaches. We used the 'Alpine of North Wales' to maintain the regional identity and incorporate the EU stars to stress we went across the Channel, plus we incorporated the dragon to emphasises our Welsh connection. It was successful – it became a recognised brand.
"However, we've become the victim of unintended consequences. In 2014, we lost the ability to run double-deckers on schools due to Welsh legislation changes. We ran 38 'deckers in 2014 – we now operate four. Instead, we have a fleet of high-capacity coaches. We've had customers call up asking for reassurance that they will not be travelling in a 3+2-seated school coach. Therefore, we decided to separate the touring and contract vehicle fleets with a different livery.
"We consulted with Syd Madge at Mad Hen, who is now based in North Wales. He spoke at both Coach Tourism Association and Coachmarque recent events.
"We gave him a brief for us to stand out. Nowadays, at a corporate level, a regional identity is viewed as being parochial. Everyone knows Alpine. So many operators have a white-based livery. Then, after the vote for Brexit, lots of people asked what we were going to do about the European stars.
"Professional advisers recognise there's a huge value in our coaches being a moving advert. Therefore, the brand has got to be right."
Asked why red had been chosen, Chris replied: "Red's a Welsh colour – and it stands out too. The dragon on the bodyside is a darker shade of red. The dragon is not supposed to be the outstanding feature – that's reserved for Alpine. The name is the element you're supposed to see first. The fleet name is designed to be simple and crisp. In practical terms, we've had to have the red lacquered, which prevents the loss of colour."
Chris added: "Our website and staff uniforms are being updated too. Six vehicles carry the new livery already – including our new Mercedes-Benz Tourismo M tri-axle. We will have eight or nine coaches completed in time for the peak season, including the new Cheetahs."
The re-painting is being carried out by Lawton's at Alsager. "We're very pleased with the standard of the finish. That's where we send our vehicles for painting," enthused Chris.
Asked about the future of the Jones of Flint and Silver Star brands, Chris replied: "We're going to use Alpine livery on Silver Star tour coaches, although the one coach will retain the Silver Star livery, which will be used inbound North Wales tour work. The Jones Holidays brand will remain blue."
Alpine's fleet will enjoy a further boost later in the year, with another new coach, a Plaxton Panther 3-bodied Volvo will enter service.