Arriva grows its contracted bus operation in the Polish capital, Warsaw
POLAND
Arriva has begun operating a new contract in Warsaw.
Worth €32m, it was awarded by the Warsaw Passenger Transport Authority (PTA) following a competitive tender with services commencing at the end of December 2018.
It means that Arriva is the second largest private bus operator in the city.
The eight-year deal will see Arriva add six new routes to its existing network in Warsaw.
Thirty-four Euro VI Otokar Vectio Cs are now in service, bringing the number of vehicles operated by the company to 88.
The specification of the buses includes air-conditioning and LCD screens to provide passengers with real-time information about their journey. Contactless payment facilities also feature.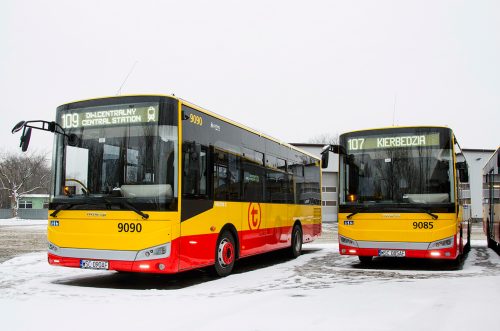 Jana Siber, Arriva Group's Mainland Europe Managing Director, said: "This contract win represents an important next step for Arriva and reflects our ambition to play a leading role as a transport provider in the Polish urban bus market.
Our clients are looking for a trusted transport partner and we've proven time and again that we're able to deliver on their expectations.
We're delighted that once again we have an opportunity over the life of the eight-year contract to showcase our credentials as a mobility partner of choice."
Arriva started operating bus services in Poland in 2013.
Today it operates predominantly regional and school transport services in the north and south of the country. I
t is also growing its footprint in the urban bus market, which is still in the process of being liberalised with only 30% of all bus services currently put out to public tender.
Warsaw PTA granted Arriva its first contract to run bus services in 2016.