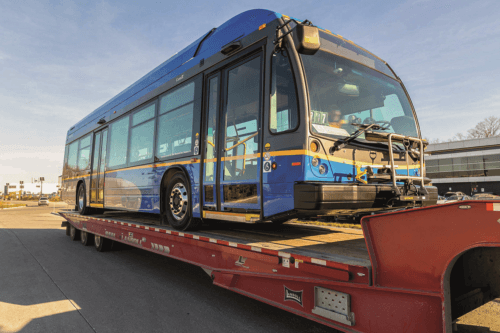 CANADA
The first of TransLink's 15 new battery-electric buses has arrived in Metro Vancouver in Canada, marking an important milestone as the operator pushes ahead for an expected early 2023 date for the buses to enter service. Over the next few months, manufacturer Nova Bus and operator Coast Mountain Bus Company will test the buses and prepare them for service.
Once all 15 are in service, the operator will have quadrupled the size of its battery-electric bus fleet from four to 19, marking a leap forward in the company's journey towards net-zero greenhouse gas emissions and a more climate-resilient transport system by 2050 as part of its TransLink's Climate Action Strategy.
The company's long-term goal is to introduce 400 new battery-electric buses by 2030 and to fully transition the fleet to zero-emission vehicles by 2040. The city tested a prototype of the Nova Bus LFSe+ bus, which has a range of around 150km, earlier this year.
TransLink currently operates two charging stations, one manufactured by ABB and the other by Siemens, which provide on-route overhead fast-charge stations to ensure that the buses can continuously recharge and operate throughout the day.