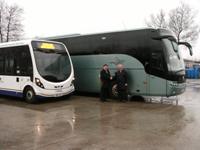 Holmeswood Coaches has taken on some extra bus operations, strengthening it's presence in East Lancashire.
On December 24 the operator took over a four-vehicle operation from Rossendale Travel of Blackburn, running a service on behalf of Lancashire County Council between Burnley and Nelson.
On January 6 the firm took over a 12-vehicle network from Tyrer Tours Ltd in Nelson, including a service on behalf of the NHS between two hospitals in Blackburn and Burnley.
Both businesses will be operated from the purpose built Tyrer Tours premises in Nelson.
Holmeswood is taking on the other firms' vehicles, which include Darts, Solos and Streetlites.
Francis Aspinall, MD at Holmeswood, said: "We are constantly looking for opportunities to expand our coach and bus operations and we feel both of these additions will further strengthen our position. There is great potential to grow our coaching presence up the M65 corridor with the move to Tyrers and we are all very excited as we look forward to the future."
Duncan Aspinall, Holmeswood Director, told CBW: "We will consider new opportunities if they arise."
Robert Tyrer, MD at Tyrers, who is retiring after nearly forty years in the industry, said: "The move to Holmeswood seemed a natural choice as they are very much a family firm. Howard Tyrer is joining the Holmeswood team as Sales and Marketing Manager and I am sure he will bring a great deal to their organisation."