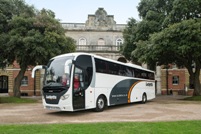 The major rebranding for Lucketts allows retention of individual company identities
Lucketts Travel has announced a £2m investment in new vehicles and has unveiled a new look for its fleet.
With three company brands operating under the Lucketts Travel umbrella, the firm thought it was time to give them all a unified look, whilst retaining the individual names.
Passengers will still travel on Lucketts Travel, Worthing Coaches or Coliseum Coaches branded vehicles, although each will share common styling identifying them as part of the larger travel group.
All will share the same familiar 'swoosh' logo, with different colours used for the three brands within the group. It's the first rebrand in eight years.
The group has also invested in seven new coaches, which takes the total number of vehicles it operates to 100.
An additional DAF Irizar i6 53-seat coach, two Scania Irizar 53-seater, two Scania Irizar 49 seat, one Scania Omni Express 53 -seater and a Plaxton Cheetah 29-seater will soon be in operation, complete with the new Lucketts Group branding.
Ian Luckett, Director of Lucketts Travel, said: "It's been a while since we last refreshed our branding and with the recent acquisition of Coliseum Coaches the time seemed right to give all parts of our business a more uniform style. It was important though to still allow each company in our group to maintain its own sense of identity.
"As a family firm, the Lucketts Group has always been focused on delivering the highest levels of customer service and satisfaction. To achieve this in a competitive market and to keep our place above the crowd, we continue to invest heavily in areas of our business which make a big difference to our passengers. By operating the latest environmentally-friendly luxury vehicles, driven by staff who receive proper industry leading training, we are able to deliver high quality travel at the best value prices."
Lucketts is also constructing a new level at its Fareham headquarters, expanding the building to include a new dedicated training area and offices.