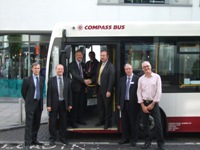 A new bus users group, Brighton Area Buswatch, was launched by MP Norman Baker at an event in Brighton on October 5.
Brighton Area Buswatch is the new name for Bus Users UK, Central Sussex Group, which represents bus users in and around Brighton from Worthing in the west to Lewes and Newhaven in the east and Haywards Heath in the north.
The new group will campaign for improvements to bus services and fares on behalf of bus users of all local bus companies. The group works closely with local authorities, bus companies and local interest groups to build relationships and ensure the interests of bus users are taken into account.
Andrew Boag, Chairman of Brighton Area Buswatch, said: "We are lucky to have an excellent bus service in this area. This is reflected in well-used buses which are popular with all age groups. Our bus users have high expectations and we aim to ensure their requirements and aspirations are recognised."
Norman Baker said: "They are a great example of an organisation which helps get passengers the service they deserve by giving them a strong voice."