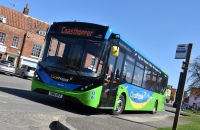 Early May sees the launch of the new look Coasthopper buses, operated by Stagecoach East with Norfolk County Council.
The new ADL Enviro200 buses feature a new livery designed by Best Impressions, embodying the attractions of the North Norfolk coast. The vehicles will be joined later this summer by new Optare Solo buses.
Ray Stenning, Design Director at Best Impressions, said: "It's important when giving a serious coastal bus route a local identity, particularly a route with strong tourism growth potential, not to make it look like it's providing a cheap fairground thrill, nor to make seem too urbane.
"We have incorporated the established Coasthopper colours and logo into an exciting contemporary livery that hits the exact right note in both style and substance."