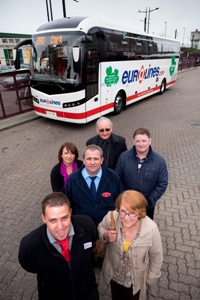 The Cardiff-Cork service, offering fares starting at £42 return, will run four times weekly with a luggage allowance of two medium-sized suitcases per person
Descendents of one of the first Irish settlements in Wales have unveiled a lasting legacy to their community via an improved coach service from Cardiff.
Former residents of Newtown, Powys have helped to design a new plaque present on the side of the Eurolines service, commemorating their past home. It reads: "Little Ireland – honouring the community of Newtown, Cardiff." The service will be operated by Bernard Kavanagh and Sons, of Urlingford, Ireland.
The service will carry passengers between Cardiff, Waterford, Limerick and Cork every week, and the Newtown Association are hopeful it will allow a new generation to discover Wales' first Irish community. The service previously operated from Cardiff Gate but has now moved into Cardiff Bus Station to make connection by rail or local bus easier.
Eurolines has produced a booklet about the history of Newtown for each passenger on the coach. It details the origins of the community and provides testimonials from the people who lived and worked there.
Mary Sullivan, former resident of Newtown, said: "This coach service will help thousands of people from across Ireland and Wales learn about the origins of Cardiff's Irish community. We really hope passengers will take an interest in the history and visit the memorial garden at the site of Newtown."
John Gilbert, Managing Director of Eurolines UK, said: "Working with the Newtown Association has been a very rewarding experience. We work closely with Irish communities across the country but Cardiff has a particularly poignant tale as their heritage is no longer standing. The new service will take passengers from across Britain and Europe to Ireland four times per week and every customer will pass the plaque to Newtown as they board."
The service will depart from Cardiff Bus Station with fares to Ireland starting at £42 return. The service features modern air conditioned seats and toilets on board. All services travel via Irish Ferries and a generous luggage allowance of two medium sized suitcases per person is included.