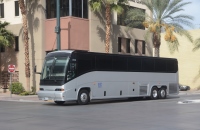 Significant ownership consolidation in North America brings two famous manufacturing names together
NORTH AMERICA KPS Capital Partners (KPS) is selling Des Plaines, Illinois-based Motor Coach industries (MCI) to New Flyer Industries of Winnipeg, Manitoba for an approximate $480m consideration. The transaction is subject to closing conditions, including U.S. antitrust and Canadian Competition Act approvals. MCI has factories in Winnipeg and Pembina, North Dakota as well as a master parts distribution centre in Louisville.
KPS acquired MCI through a complex out-of-court restructuring and change of control transaction in 2010. Under its ownership, MCI successfully achieved an ambitious turnaround that re-established the manufacturer as a market-leader in North American.
Key elements of MCI's transformation included retaining a new management team, creating a new organisational structure and corporate culture, materially improving its operating cash cost structure, labour productivity and plant efficiency. Restructuring under-performing business units and implementing a new strategic approach to customers, product mix and the market.
In 2012, MCI established a strategic partnership with Daimler AG and acquired exclusive distribution rights for Setra motor coaches and aftermarket parts in the United States and Canada.
Richard Heller, Chief Executive Officer of MCI, said: "Working in partnership with KPS, we executed a remarkable turnaround that formed the foundation for MCI's significant growth. We are grateful to KPS for providing our team with leadership, expertise, capital and other resources as we executed the turnaround.
"MCI is thrilled to join New Flyer, which has the resources, expertise and access to capital that will enable MCI to achieve an even higher level of success. We thank our customers, suppliers and employees for their contributions to our remarkable success."