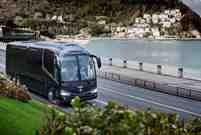 Irizar is to break new ground by entering the North American market.
Two versions of the manufacturer's popular i6 model will be available across the Atlantic.
They have been fully developed to the needs of North American operators, comply with all DOT requirements and are manufactured entirely in the European Union.
Both variants are 45-foot long integral coaches with a Cummins 13l engine and Allison automatic transmission. The i6 models are available in a height of either 12.23 or 12.89 ft.
INA Bus Sales, located in Las Vegas (Nevada) has been appointed as Irizar's exclusive distributor for the sale and aftersale of Irizar products in the United States.
Irizar will launch its products at the UMA Expo in Atlanta where it will offer its luxury coaches to North American operators
Irizar said it has chosen to introduce the Irizar i6 into the market thanks to its proven technology and reliability. There are already over 3,000 units of this model in operation in Europe, where it is a market leader thanks to its safety, design and comfort as well as its profitability for operators.