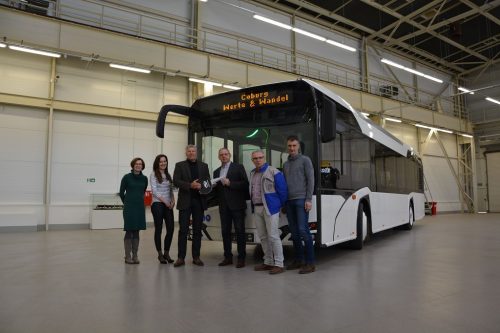 Polish manufacturer continues to expand its customer base in key German market
GERMANY Solaris Bus & Coach has been operating in the German market since 2000.
Since then the Polish vehicle maker has supplied over 3,000 buses and trolleybuses in that country.
The latest order placed with Solaris by SÜC Coburg is proof of continuing market penetration, the manufacturer said.
The Bavarian bus operator has commissioned two new Euro 6 Solaris Urbino 12s that were delivered at the beginning of April.
Solaris says the 2-2-0 door layout of the 26-seat buses facilitates the efficient movement of passengers.
Seeking to ensure their comfort, the specification includes air-conditioning, internal and external LED lighting systems and a passenger information system.
An anti-graffiti coating has been applied to the seats and there is also a saloon CCTV system.
A fire suppression system has been installed in the engine compartment.