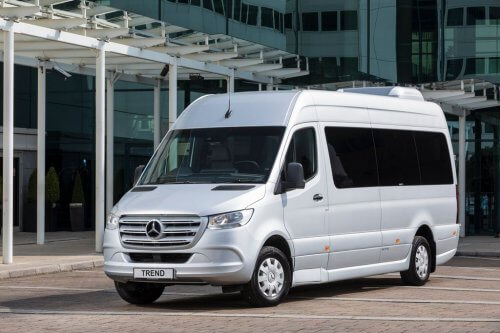 Minibus converter EVM has put a new model into its large range of vehicles. The Trend is based on the new Mercedes-Benz Sprinter range and aims to be a lightweight option for minibus sector operators.
The Trend starts at eight seats and goes up to 16 seats. One of the first examples produced, pictured, is a four-cylinder OM651 2.1-litre Euro VI engined 414CDI with a seven-speed automatic gearbox and delivers 143bhp.
Dark black privacy glass is fitted to the saloon and rear windows, whilst the interior is kept cool with Mercedes-Benz in-dash and roof mounted saloon air-conditioning. Heating is also provided by an OEM unit through floor vents with a booster pump.
Front entry is via the OEM door with lowered three step entry, but a powered plug door is an option. The exterior is completed by EVM side skirts, which, along with the bumpers are colour coded.
The interior has luggage racks, show curtains, 10 USB ports and 16-seats trimmed in half cloth, half virtual leather. Fill virtual leather seats are an option.
The EVM Trend's unladen weight is 2,750kg, with a gross vehicle weight of 4,100kg. This lighter option from EVM starts at £42,500 up to just under £50k for the specification shown in one of the first examples.
The Trend comes in Black, Silver or White.