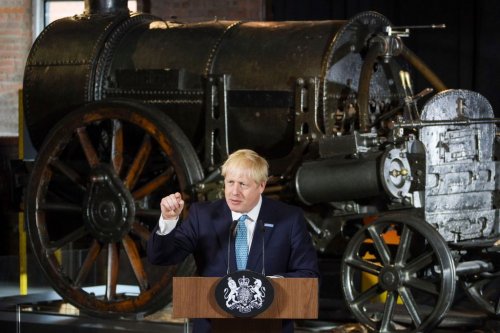 Boris Johnson has pledged to improve the UK's bus network and bring in a raft of changes
Within the first three days of being in his new position as Prime Minister of the United Kingdom, Boris Johnson gave a speech at the Manchester Museum of Science and Industry about developing the Northern Powerhouse rail project.
His speech also included the claim that he will be using some of the £3.6bn Towns' fund to "deliver a London-style bus system" to Manchester within months.
The former Mayor of London is well known for his fondness of buses, so much so that the opening to his speech about improving bus services started with: "I know a lot about buses, believe me, I helped invent a new type of bus and very beautiful it is!" He was of course referring to his involvement in designing and commissioning 1,000 Wrightbus New Bus for London vehicles during his term as Mayor of London.
His speech continued to highlight the changes he will make: "I will begin, as a matter of urgency, the transformation of local bus services starting in Manchester.
"I will work with the Mayor on his plans to deliver a London-style bus system in the area under the powers which we gave him under the bus services act."
These service changes will include: higher frequency with low and zero emission buses, more bus priority corridors and networks that 'are easier to understand and use.'
He continued: "I want local partnerships between the private sector that operate them and a public body that coordinates them. In London, where we have all those things, passenger journeys have risen by 97% in 25 years. In other metropolitan areas, where they don't, ridership has fallen by 34% over the same period.
"You can see first results here in Manchester within a few months, and I want the same for any other part of the country where local leaders want to do it."
He ended his speech about transport by saying that "Good transport connections are also vital for so many of the towns that feel left behind."
His speech went down well with the audience, but was overshadowed by the announcement he made prior to that in relation to a new high-speed Leeds to Manchester rail route, with much of the media outlets choosing to concentrate on that aspect rather than improving bus services.
Commenting on the speech, Graham Vidler, CPT Chief Executive, said: "It's great to see the Prime Minister recognising the vital role of bus services.
"Bus operators up and down the country have invested hundreds of millions of pounds in recent years to improve buses and extend bus services. We look forward to working with central and local governments to put better buses at the heart of towns and cities throughout the UK."