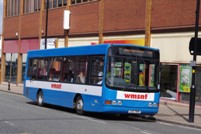 A new service is being introduced in the West Midlands by West Midlands Special Needs Transport (WMSNT).
The 39B, partly funded by Bournville College, will run between Bromsgrove and Longbridge from September 10. It will provide improved transport links for students, running on weekdays during the college term time.
Des Rogers, WMSNT Operations Manager, told CBW: "The service will be operated by a 29-seat vehicle, perhaps a Dennis Dart. This is an extension to our existing 39/39A service which operates to Longbridge from Quinton six days a week on a 30-minute headway.
"If 39B is successful I can see an opportunity to operate an all-day service, especially when Longbridge is developed and the new Sainsbury's opens.
We now have 15 vehicles operating under Section 22 and are looking to develop the idea further."
The bus departs from Bromsgrove Bus Station at 0800, stopping at Catshill, Rednal, Barnt Green, Alvechurch and Hopwood, arriving at Longbridge at 0843hrs.
The service makes a return journey leaving Longbridge at 1705 and arriving in Bromsgrove at 1748hrs.
Call WMSNT on 0121 327 8128