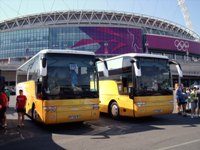 Torch Relay coaches cover a marathon distance – each accumulating 8,000 miles
Buzzlines Travel's Tony McGlynn holds a strong claim to be a worldclass authority on the Olympic Torch. The driver/trainer drove one of the Kent firm's two Torch support vehicles, which formed part of the coach convoy following the flame across the UK.
Tony, who has been driving for Hythe-based Buzzlines for nine years, said the Torch relay provided a host of highlights.
"We were fortunate to witness RAF fly-bys and drive past some of the UK's most beautiful landmarks," he said. "Then there were the celebrities. Sir Cliff Richard was great and Jamie Oliver was also really down to earth. When he ran with the torch it was pouring with rain but he didn't complain at all.
"I was honoured to have taken part in the Torch relay and enjoyed every minute of the journey from day one in Lands End to day 70 at the Olympic Stadium."
Buzzlines provided two 42-seater Van Hool T911s for the relay, which saw Tony and the Torch pass through more than 1,000 cities, towns and villages in every corner of the country – clocking up more than 8,000 miles.
Interior and component suppliers Bradtech modified the interior of one coach so it could be used as a police command vehicle. An electrical centre partition was installed, dividing the coach into two sections.
The front half acted as the command centre, complete with communications equipment and 12 seats with tables, while the rear compartment provided accommodation for the police running teams, who marshalled the torch and torchbearers. This section included a refreshment area with 11 seats and tables, as well as a cabinet which housed the Olympic torch.
The second coach was used to carry representatives of the Torch Relay route sponsors, who were also in the convoy, between each leg of the tour. This vehicle was unmodified.
Nigel Busbridge, Operations Director of Buzzlines, said: "The organisers approached us as they were looking for an established, reliable and above all flexible coach operator with a proven track record of being able to provide the quality of vehicles, drivers and support staff required.
"We are proud that we were given the responsibility."