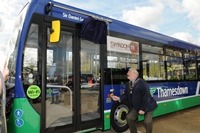 Operator invests in ADL buses and continues its tradition of naming vehicles after locomotives built in Swindon
Thamesdown Transport has revealed four new Alexander Dennis Ltd (ADL) Enviro200 midi buses as part of Swindon 175 festivities – celebrating the anniversary of Swindon being chosen as the home of the Great Western Railway works in 1841.
The buses feature comfortable high-backed seating (upholstered in fabric and E-Leather) in a new colour scheme for the company, as well as audio-visual next-stop displays, a larger area for those travelling with pushchairs, and free WiFi provided by Icomera.
In keeping with Thamesdown tradition, all four buses have been named after former Great Western locomotives built in the town. They will replace Plaxton-bodied Dennis Dart buses – numbers 194, 195, 196 and 197 – in the coming months leading into summer.
Two have been named in commemoration of famous figures from the town's railway history – Sir Daniel Gooch and Isambard Kingdom Brunel. The remaining two buses are named after the Castle Class locomotives – Sudeley Castle and Sarum Castle.
Sir Daniel Gooch was officially launched by Mayor of Swindon, Councillor Andrew Bennett; Isambard Kingdom Brunel was unveiled by Paul Jenkins, Managing Director of Thamesdown; and Sudeley Castle was launched by Frank McGhee of bus manufacturer Alexander Dennis. Sarum Castle was launched by Thamesdown's Stan Scott.
Peter Oliver, Commercial Director for Thamesdown, said: "Swindon has a history steeped in the excellent provision of public transport, and the legacy of skills that railway left us is strong at Thamesdown.
"We are proud to associate the naming of our new buses with the Swindon 175 celebrations.
"We hope that this investment makes bus travel more comfortable and a great option for getting around Swindon."
Chairman of Thamesdown's Board of Directors, Mike Bawden, said: "This investment is very welcome and marks the start of a fleet renewal programme."
Frank McGhee of ADL said: "We are delighted to provide Thamesdown with these new buses and are looking forward to receiving further orders later in the year."