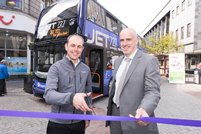 Stagecoach North Scotland has unveiled a fleet of eight new double-deckers that are to operate between Aberdeen city centre and Aberdeen Airport.
Greig Mackay, Deputy Director of Bus Users Scotland, launched the eight Alexander Dennis (ADL) Enviro400s in a striking new JET 727 livery at St Nicholas Square on Thursday, May 5.
The new vehicles mark a £1.7m investment from Stagecoach North Scotland and feature leather seats, free WiFi and USB charging points. Extra seating and luggage racks on the vehicles, which will operate up to every 10 minutes through the day.
The new Enviro400s will replace single decker Optare Versas that currently operate on the route between the city centre and Aberdeen Airport.
The new vehicles are equipped with a vehicle tracking system which means passengers will be able to track their bus in real time by looking up their bus stop in the 'bus stops nearby' section of stagecoachbus.com.
The distinctive JET 727 livery has been refreshed by the Stagecoach team based in Aberdeen to compliment the new double deckers. The vehicles entered service on Friday, May 6.
Steve Walker, Managing Director, Stagecoach North Scotland said: "We're committed to investing in passenger experience and are confident that the new vehicles will be a welcome upgrade to our current JET 727 passengers. We hope that the new vehicles coupled with the indefinite fares discount in Aberdeen zone 1 will encourage more people to choose the bus for their journey."
Greig Mackay, Deputy Director of Bus Users Scotland, said: "Bus Users Scotland welcomes the new investment that Stagecoach North Scotland has committed to with the procurement of these new ADL Enviro400 vehicles which will enhance the passenger experience on the Jet 727 route.
"All of this helps to transform the experience of taking the bus as an enjoyable and environmental alternative to using the private car."