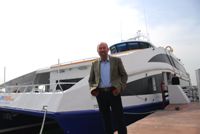 Sir Brian Souter's new travel concept combines bus and ferry services to reduce travel times into Istanbul
TURKEY Sir Brian Souter is set to launch a new travel concept in Turkey which has been described as "revolutionary" and combines express bus and ferry services.
IDObus.com, which launches March 22, aims to reduce journey times between Istanbul and cities around the Sea of Marmara by up to 40%, while internet-booked fares will start at just one Turkish Lira (40p).
Istanbul is one of the world's most congested cities and a road journey from the city to Izmir can take between eight to 10 hours. Sir Brian's combined bus and ferry service will only take six and a half hours.
IDObus.com is the latest service to be launched by Istanbul Deniz Otobüsleri (IDO) – the company Sir Brian's Scottish-led consortium was involved in privatising in an $861m deal in 2011.
Sir Brian said: "Life is just about to improve for commuters in and around Istanbul. IDObus.com will not only cut congestion in Istanbul, it will have a positive impact on the environment, helping to reduce traffic pollution in the city."
Four 450 seat ferries are to run from Istanbul across the Sea of Marmara to the Port of Guzelyali near Bursa. A fleet of buses will meet the ships and transport passengers on their onward legs to Bal?kesir, Manisa and Izmir.
Each ferry is scheduled to operate 13 return trips across the Sea of Marmara with the service running from 0600 to 0000hrs. IDObus.com coaches run overnight to ensure passengers can arrive or depart whenever necessary. Free internet access is provided on board the seabuses and coaches.
Sir Brian was in Istanbul on March 8 to launch IDObus.com which immediately generated huge interest in Istanbul and throughout the wider Marmara region.
Sir Brian concluded: "Going by today's interest in IDObus.com, passengers love the concept of fast, inexpensive and hassle-free travel."
Fares to Bursa start from one lira, Balikesir 13 lira, Manisa and Izmir from 22 lira