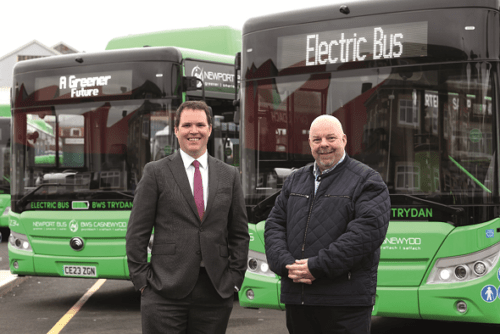 On 17 April, Newport Transport presented its latest batch of 12 electric single-deck buses to Welsh Deputy Minister for Climate Change Lee Waters. The new buses represent the latest step in the company's ongoing vision to have a zero-emission bus fleet in operation by 2028. With the addition of the latest Yutong buses, Newport Bus now has 44 fully electric vehicles in its fleet; once all the vehicles are in operation, the operator says that over 60% of its daily bus services will be operated by buses with zero emissions at the tailpipe.
Newport Transport was able to secure £6.3m of funding allocated to Newport City Council by the Welsh Government to help address the issue of poor air quality zones in the city as reported in its Air Quality Management Area report, meaning the company can continue with the replacement of its diesel fleet.
The new buses are a combination of 10.8m E10 and 12.1m E12 models, which were delivered by Pelican Bus & Coach in early 2023. The vehicles had their fit-out completed by the Newport Transport engineering team on-site in Newport and boast the same specification as previous deliveries. Managing Director for Newport Transport Scott Pearson commented:" It is exciting to see how we are progressing at pace to achieve our ambitious plan to deliver a zero-emission bus fleet to the people of Newport by 2028.
This would not be possible without our partners in this project, Pelican and Zenobē, and we are grateful for their support."