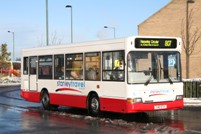 North-East operators told to contact Nexus before the end of June
Nexus, the Tyne and Wear Passenger Transport Executive, is urging North East bus operators to sign up for a scheme to fund the preparation of their vehicles for smart ticketing.
All companies operating registered services within or into the Tees Valley, County Durham, Darlington, Northumberland or Tyne and Wear are included and have been asked to contact Nexus before the end of June.
Nexus is co-ordinating the installation of on-board Electronic Ticket machines (ETMs) on behalf of NESTI, the North East Smart Ticketing Initiative.
NESTI is assisting bus operators to work towards smart ticketing by offering a two-pronged approach.
The first offer, adopted by major operators Arriva, Go North East and Stagecoach, saw them invest in their own equipment and back office with the aid of a £1,000–pervehicle grant.
The second offer, aimed at smaller operators, also provides grant funding from NESTI to a value of £1,000 per vehicle.
The offer enables smaller operators to purchase ETMs and a managed service from a framework procured by NESTI in conjunction with Yorcard Ltd, a similar project in Yorkshire.
These ETMs will be preconfigured to meet NESTI requirements and once installed will be eligible to receive the grant.
Operators can also then take up the 8% BSOG uplift from the Department for Transport, and should they take the second offer would also be eligible for further 2% RTI uplift.
Tim Roylance, NESTI programme manager, said: "It is crucial operators who are interested in accessing smart ticketing and all its benefits sign up and register their interest in the scheme."
NESTI has opened a register of interest which operators interested in accessing the NESTI grant can join, providing they respond by a closing date of June 30, 2012.
Operators should email [email protected] or write to: NESTI, Nexus House, 33 St James Boulevard, Newcastle upon Tyne, NE1 4AX.